Vitamin C DHAA Serum 110ml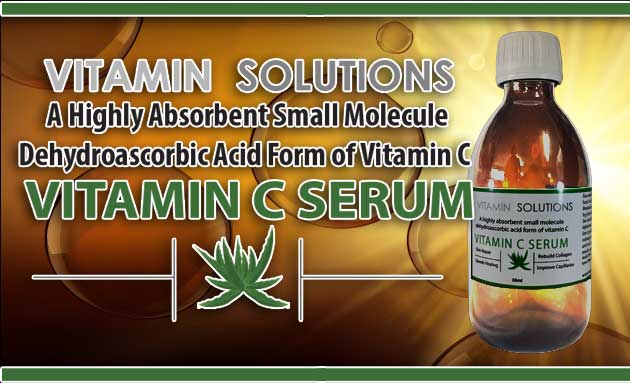 Vitamin Solutions manufactures a powerful form of small molecule Vitamin C that has been scientifically shown to have the ability to penetrate through skin 12 times more effectively than pure ascorbic acid, (pure vitamin C).
What You Are Buying
Vitamin C DHAA serum is made from pure Ascorbic Acid of which a portion is converted into the naturally occurring Dehydroascorbic Acid (DHAA) form of Vitamin C. The serum is suspended in non GMO vegetable glycerine. 100ml comes as two 50ml bottles for ease of storage.
Scientific studies show the DHAA form of Vitamin C penetrates skin 12 times more efficiently than normal Vitamin C serums and this results in far higher levels of normal Vitamin C (ascorbic acid) being available for repairing damage, fighting infection, healing and rebuilding collagen fibers and capillaries. This is because DHAA converts to Ascorbic acid once it has penetrated the skin!
Vitamin C DHAA Serum keeps for over a year in the freezer without freezing and keeps for months in the fridge. Keep out of strong sunlight.
As with all vitamin C serums, our DHAA vitamin C serum can stain bed sheets, pillow cases and clothes with a light yellow tinge. This stain is usually easily washed out with washing products that contain active oxygen.
Directions
A half to one teaspoon in a one or two tablespoons of water daily for 12 weeks is enough for a complete skin rejuvenating treatment head to toe. Spread with a cotton cloth soaked with the diluted product or use the palm of your hand with a little dilute product in it.
A few slightly diluted drops is all you need for most localised skin ailments. Spread with a wetted finger.
Contains no alcohol, preservatives or additives. Store in refrigerator (three months) or freezer (one year). Keep bottle out of direct sunlight.
If you want more info check out our full Vitamin C DHAA Serum Website which includes extensive additional information.